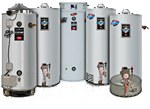 After heating and cooling, water heating is typically the largest energy user in the home because it is necessary for so many domestic activities. The capacity of a water heater is an important consideration. The water heater should provide enough hot water at the busiest time of the day. We offer a wide variety of electric, gas and tankless water heaters.


Tankless Water Heaters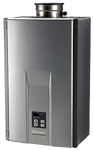 Tankless water heaters provide several benefits:
Saves energy. The unit only operates when there is a demand for hot water, which can reduce its energy cost by about 25% annually.
Highly efficient. The most efficient storage tank has an energy factor of about .67, but, according to Energy Star, some tankless units have energy factors as high as .95.
Reliable. If a unit is sized properly, a gas tankless heater can deliver a continuous supply of water at a preset temperature (plus or minus one degree) at a rate of typically 2 gallons to 5 gallons per minute. The units never run out of hot water, though the flow rate may be inadequate during times of peak demand.
Compact size. The typical tankless heater is about the size of a small suitcase, which takes up significantly less space than a conventional tank.
Durable. It has a life expectancy of 20 years or more.
Versatile. The unit is easy to zone and it can go almost anywhere in the house. It also can be installed outside on a wall.
Bradford White Electric Tank Water Heaters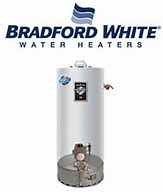 Upright Residential Electric Water Heater
View Brochure
Model Family: RE series
Capacity: 30 to 55 gallons
UEF (Efficiency): .91 to .93
Energy Star Rated: No
Self-Cleaning: Yes
Voltage: 120V, 208V, 240V, 277V, 480V
Warranty: 6 or 10 Year Limited Warranty
Manufacturer's Stated Benefits:
Vitraglas™ Lining Provides Superior Tank Protection
Protective Magnesium Anode Rod—Provides added protection against corrosion for long-term, trouble-free service.
Hydrojet® Total Performance System Reduces Sediment Buildup
T&P Relief Valve—Installed.
Silent Heat Traps Increase Energy Savings and Reduce Noise Potential
Immersed Copper Heating Elements with kW Input Range from 1.5kW to 12kW
Factory-Installed Dielectric Waterway Fittings
Available single phase or three phase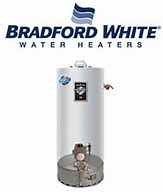 Residential Lowboy Electric Water Heater
View Brochure
Model Family: RE-Lowboy
Capacity: 19 to 47 Gallon
UEF (Efficiency): .91 to .92
Energy Star Rated: No
Self-Cleaning: Yes
Voltage: 120V, 208V, 240V, 277V, 480V
Warranty: 6 or 10 Year Limited Warranty
Manufacturer's Stated Benefits:
Vitraglas lining provides superior tank protection from corrosive hot water
Protective Magnesium Anode Rod—Provides added protection against corrosion for long-term, trouble-free service.
Hydrojet® Total Performance System Reduces Sediment Buildup
Low restrictive Brass drain valve-durable tamper proof design
Factory installed heat traps
Direct heat transfer with immersed elements
Unit can be provided single phase or three phase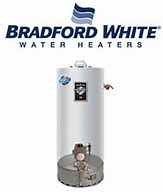 Residential Utility Electric Water Heater
View Brochure
Model Family: RE-Utility
Capacity: 6 to 19 Gallons
UEF (Efficiency): Not applicable
Energy Star Rated: No
Self-Cleaning: Yes
Voltage: 120V, 208V, 240V, 277V, 480V
Warranty: 6 or 10 Year Limited Warranty
Manufacturer's Stated Benefits:
Vitraglas® tank lining with Microban® provides superior tank protection from corrosive hot water
Protective Magnesium Anode Rod—Provides added protection against corrosion for long-term, trouble-free service.
T&P Relief Valve—Installed.
Utility models have side water connections allowing installations in tight spaces.
Single phase only
Bradford White Gas, Tanked Water Heaters
Frequently Asked Questions