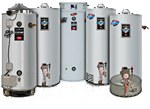 After heating and cooling, water heating is typically the largest energy user in the home because it is necessary for so many domestic activities. The capacity of a water heater is an important consideration. The water heater should provide enough hot water at the busiest time of the day. We offer a wide variety of electric, gas and tankless water heaters.


Tankless Water Heaters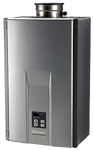 Pros:
Saves energy. The unit only operates when there is a demand for hot water, which can reduce its energy cost by about 25% annually.
Highly efficient. The most efficient storage tank has an energy factor of about .67, but, according to Energy Star, some tankless units have energy factors as high as .95.
Reliable. If a unit is sized properly, a gas tankless heater can deliver a continuous supply of water at a preset temperature (plus or minus one degree) at a rate of typically 2 gallons to 5 gallons per minute. The units never run out of hot water, though the flow rate may be inadequate during times of peak demand.
Compact size. The typical tankless heater is about the size of a small suitcase, which takes up significantly less space than a conventional tank.
Durable. It has a life expectancy of 20 years or more.
Versatile. The unit is easy to zone and it can go almost anywhere in the house. It also can be installed outside on a wall.
Cons:
Tankless units cost about twice as much as traditional storage tanks.
Installation is expensive. In addition to the high product cost, installation for the unit and the necessary piping can be pricey. They also need very good venting, which is also expensive.
Retrofit can be pricey and complicated. Unlike a traditional tank, retrofitting a home with a tankless unit can require different venting and gas piping.
Best performance comes from gas units. Though gas-fired tankless units are great performers for whole-house use, electric units are woefully inadequate. Electric units are not Energy Star-rated.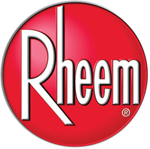 Rheem has used the power of gas to fuel some great advancements in water heating. Made popular by their ability to heat water effectively and efficiently, gas water heaters are our most popular water heaters. We are sure you will find a hot water solution to fit your lifestyle and budget that you will enjoy for years to come.

Professional Classic Series: Power Direct Vent
View Brochure
Model Family: RH67PDV
Capacity: 40 to 50 gallons
UEF (Efficiency): .63 to .69
Energy Star Rated: ENERGY STAR® certified models available
Self-Cleaning: yes
Venting: power direct vent
Warranty: 6 Years Parts and Tank Warranty
Manufacturer's Stated Benefits:
FHR: Up to 82 gallons for natural and LP gas
Recovery: 38.4 to 40.4 at a 90 degree rise, based on model
Electronic gas control for improved monitoring and service
Eco-friendly burner, low NOx design
Two pipe system: one pipe pulls in outside air for combustion and the other exhausts combustion gases
120 VAC powered blower
New whisper quiet blower
Protective control system that disables the heater in the presence of flammable vapor accumulation
Enhanced-flow brass drain valve
Temperature and pressure relief valve included
Low lead compliant
Durable silicon nitride igniter (HSI)
EverKleen™ patented system fights sediment build-up
Standard replacement parts

Professional Classic Plus Series: Ultra Low NOx
View Brochure
Model Family: RH62
Capacity: 28 to 50 Gallons
UEF (Efficiency): .58 to .64
Energy Star Rated: No
Self-Cleaning: yes
Venting: Atmospheric
Warranty: 8 Year Warranty
Manufacturer's Stated Benefits:
More hot water at a low operating cost
FHR: 73 - 104 gallons for natural gas
Recovery: Up to 45.5 GPH at a 90? F rise, depending on model
Exclusive air/fuel shut-off device for double protection
Maintenance free - no filter to clean
Protective control system that disables the heater in the presence of flammable vapor accumulation
Ultra Low NOx radiant burner design
Stainless steel construction
SCAQMD Rule 1121 compliant
Meets 10 ng/J NOx requirements
EverKleen™ patented system fights sediment build-up
Premium grade anode rod provides long-lasting tank protection
Easy to light - no matches required
Enhanced-flow brass drain valve
Temperature and pressure relief valve included
Exclusive Rheemglas® lining
Frequently Asked Questions